Documentaries by Oscar-nominated filmmaker, Judith Ehrlich:
The Mouse That Roared (currently in production)

"THE MOUSE THAT ROARED" follows Icelandic Member of Parliament, Birgitta Jónsdóttir as she fights to make her North Atlantic island nation a unique haven protecting digital free speech for us all. A character-driven political thriller set in Iceland, the US and cyberspace, our film follows this poet, hacker and single mom, as she faces off against the vast secrecy system of the world's most powerful nation with art, heart and a woman's perspective. Her work with Julian Assange to produce the "Collateral Murder" video put WikiLeaks on the map and more recently she founded and was elected to represent Iceland's Pirate Party. Birgitta was a leader of the 'pots and pans' revolutions that in 2009 overthrew Iceland's bankrupt government and put its unscrupulous bankers in jail instead of bailing them out. We follow her trajectory as she becomes a formidable player hacking the political system of the digital world from her elected office in tiny Iceland. Birgitta and Iceland– "The Mouse that Roared." Are they too small to fail? More>>
The Boys Who Said No (currently in production)

"The Boys who Said NO!" tells the story of the young men, subject to our nation's last draft, who for reasons of conscience burned their draft cards in protest and chose prison over killing during the Vietnam war. It chronicles "The Resistance" an anti-draft movement based on Gandhi's teachings of nonviolent direct action and the couple who most publicly embodied its principles, Joan Baez and David Harris. Baez, the iconic voice of the anti-war movement, married Harris, leader of "The Resistance" shortly before he was sentenced to three years in prison for publicly refusing to be drafted. The men and women dedicated to using civil disobedience to oppose conscription continued to organize and formed the vanguard of a mass anti-war movement. More>>
The Most Dangerous Man In America: Daniel Ellsberg and the Pentagon Papers (released)
"The Most Dangerous Man in America" is the story of what happens when a former Pentagon insider, armed only with his conscience, steadfast determination, and a file cabinet full of classified documents, decides to challenge an "Imperial" Presidency-answerable to neither Congress, the press, nor the people-in order to help end the Vietnam War.
Nominated for the Oscar and Primetime Emmy, winner of the Peabody Award, all worldwide history film awards and 12 film festival awards for Best Documentary including the Special Jury Prize at IDFA. More>>
The Good War and those who refused to fight it (released)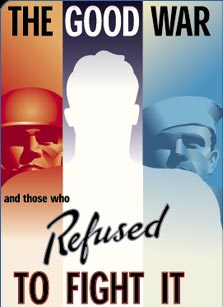 "THE GOOD WAR And Those Who Refused To Fight It" sheds light on a previously ignored part of the World War II saga – the story of American conscientious objectors who refused to fight "the good war." It is a story of personal courage, idealism and nonconformity based on both ethical and religious beliefs – about men whose love of country could not extend to killing their fellow man. More>>